Hawaii is a gorgeous place to get married! However, if you're from the Midwest or East Coast, there are closer (and lower-cost) destination wedding venues with a Hawaiian vibe perfect for your big day! We know lots about destination weddings and elopements (and we have our own refined process to make your day exceptional). Read further to find venue ideas, hotel options, and the perfect almost-Hawaiian wedding location.
One more thing to note: if you're looking for an all-inclusive resort for your guests to enjoy, Hawaii doesn't have much to offer. You'll have an easier time finding one in the Caribbean, where they're plentiful.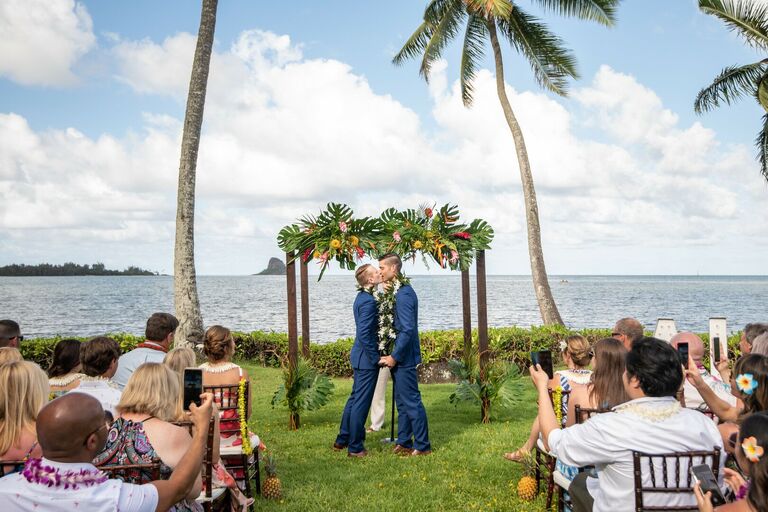 Costa Rica's Hawaiian Vibe
Just as Hawaii is known for endless beach views, spectacular sunsets, and awe-inspiring national parks, Costa Rica is also known for tropical landscapes and protected parks and wildlife. Visit Las Baulas National Park, Manuel Antonio National Park, Cathedral Point, Morazan Park, and the famous Arenal Volcano.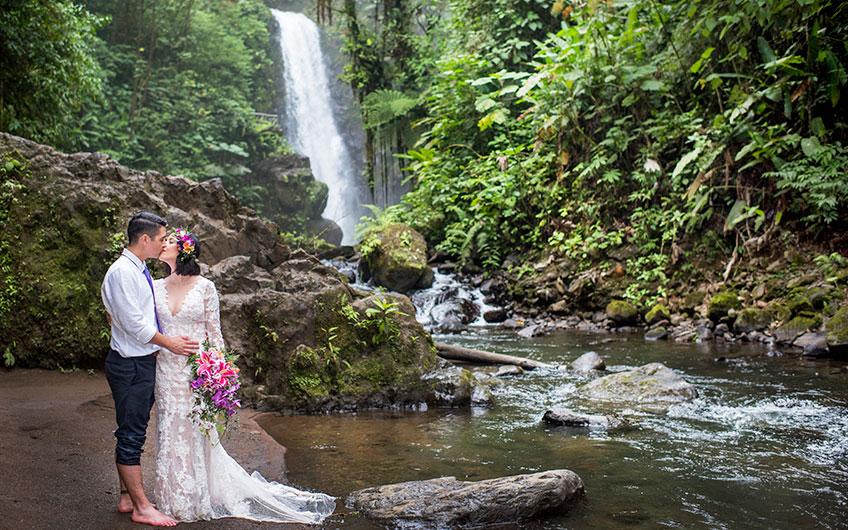 Venues/Resorts: 
Hawaiian-like Excursions and Activities:
Surfing
Snorkeling by the coral reef
Golf
Zip lining
Sailing
Fishing
Rafting
Scuba diving
Spas
Bird watching and wildlife – huge turtles and howler monkeys
Playa Jaco – famous 2-mile beach
Private hot springs
Thermal mineral pools
Volcano Tours
Rio Celeste (Blue Volcanic River)
Relaxing beaches
So many hiking trails! (see the National Park list above!)
Waterfalls (El Salto is gorgeous)
Los Cabos Destination Wedding
Another amazing destination wedding location with a Hawaiian vibe, Los Cabos is beautiful!
Venues/Resorts: 
Hawaiian-like Excursions and Activities:
The Arch/Land's End – where the Sea of Cortes meets the Pacific Ocean
Surfing
Kayaking
Whale Watching
Horseback Riding
Lazy days on the beach
Sunsets galore!
Rooftop infinity pools
Spas
Hawaiian-Like Destination Wedding: The Bahamas 
Only a short plane ride from Florida, The Bahamas offers stunning sunsets, breathtaking landscapes, and five-star resorts with a Hawaiian vibe. You can hang out on the beach or take a swim in the Atlantic Ocean for a destination wedding you won't forget! 
Venues/Resorts: 
Hawaiian-like Excursions and Activities:
700 islands!
Endless water sports like scuba diving
Thunderball Grotto underwater cave near Exuma
Private offshore islands
Saint Lucia's Hawaiian Vibe
Perfect for a tropical destination wedding with many all-inclusive resorts and breathtaking hiking trails, Saint Lucia is an excellent alternative to a Hawaiian wedding location. Plus, how much fun would it be to plan a group excursion to a volcano?! You can do that here!
Venues/Resorts: 
Hawaiian-like Excursions and Activities:
Volcanic tours – including drive-in volcano tours
Anse Chastanet Beach – famous black sand beach!
Anse La Raye Falls
Barre de L'Isle Trail
Tet Paul Nature Trail
Gros Piton Nature Trail
Petit Piton Trail
Snorkeling
Scuba diving
Bird watching – be on the lookout for the national parrot Amazona Versicolor
Sulphur springs and mud baths
Hawaiian Vibe with a Twist: Grenada
Granada includes amazing waterfalls that are similar to the ones in Hawaii. With a Spanish twist, this could be just what you want for your destination wedding! 
Venues/Resorts: 
Hawaiian-like Excursions and Activities:
---
There are so many Hawaiian alternatives for your destination wedding! Other locations that have a Hawaiian vibe for your destination wedding include Antigua and Barbados. Ask us about your dream Hawaiian vibe destination wedding! 
Looking for more destination wedding planning tips? We've got your back!  Click here to read more of our blogs that will help you. And, if you're ready to find your destination wedding photographer, contact us! We offer photo and video services, no travel fees, and custom collections for every single one of our couples. We can help make your dream wedding day come true.