The top five reasons to get married in Hawaii include the best resorts, breathtaking ocean views, and an adventure you'll never forget! Hawaii has a lot to offer any couple eloping, renewing their vows, or planning an extravagant island wedding. You're going to want to keep reading for the reasons to book your Hawaiian wedding today!
1. Get Married in Hawaii for the Island Vibes
Hawaii is an island – duh! In fact, Hawaii is a chain of a bunch of islands. Getting married on one of these islands provides unique opportunities and tropical excursions you otherwise wouldn't experience. When choosing your destination wedding location, it's always good to start with which island is right for you. There are six major islands offering adventures you'll only find in Hawaii: 
Kauai
Kauai is known as the "garden island." The fourth largest island and northernmost island, you can find tropical rainforests, rivers, and mountains to explore. Dine at fine restaurants with fresh fish, like Merriman's Fish House right on the coast. Afterwards, treat yourself to a local favorite, Lappert's Hawaii Ice Cream Shop. 
And of course you can get married on Kauai! Choose a romantic beach, botanical garden, private estate, or even a waterfall for your ceremony! The Grand Hyatt Kauai Resort and Spa offers many wedding packages. Bring any vendor you'd like – like us! – to Keoneloa Bay or Hanalei Bay for the beach ceremony of your dreams. 
Oahu
Considered the "heart of the island." The third largest Hawaiian island is a gathering place of diverse people and cultures. You'll find a tropical island vibe mixed with bustling city life. Because of the fast-paced city atmosphere, you'll find shrimp trucks, food stands, as well as restaurants of the finest kind. Your guests can dine at M By Jeremy Shingekane, or Roy's Waikiki for flavorful masterpieces. These dishes you won't find elsewhere! 
For your Hawaiian wedding, check out the many public wedding locations on Oahu. These venues only include a $50 wedding permit. Say "I do" on Waialae Beach framed with palm trees, or Liliuokalani Gardens & Waterfall at sunset. We absolutely LOVE beach weddings. Clear waters, white sand, and lush greenery are a photographer's dream backdrop. The scenery makes you and your partner pop! With our expertise, we can easily walk you through wedding permits and photography permits as well. 
Molokai 
One of the smaller islands, Molokai provides stunning sea cliff outlooks, panorama views, and snorkeling along the longest continuous fringing reef. It is home to one of Hawaii's largest white-sand beaches: Papohaku Beach. 
Another amazing reason to get married in Hawaii, is the fresh, authentic island food. There are more local restaurants here than extravagant ones, however, the beachside eateries will delight your taste buds! Don't forget to visit Kanemitsu's Bakery for the best doughnuts on the island! 
You can say I do on one of Molokai's beaches, at the Hotel Molokai grounds, or at a private residence. Check out the Hawaii Electronic Marriage & Civil  Union Registration for more information.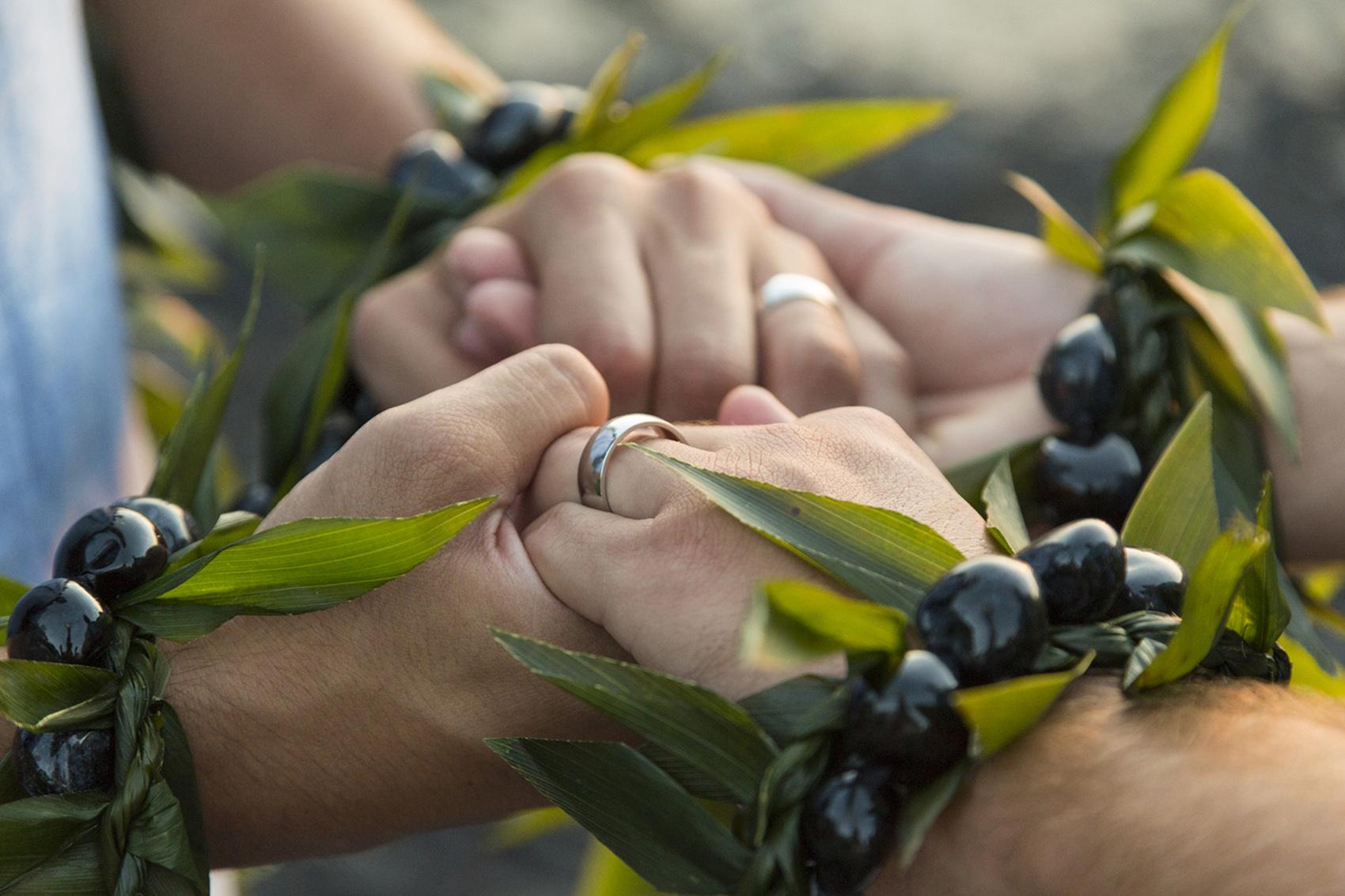 Lanai
Furthermore, on the island of Lanai, we can help coordinate your perfect wedding at the Four Seasons Resort Lanai or along Manele Bay! We know a lot about destination weddings and beach ceremonies! We can put your mind at ease. This is your special day, and we can't wait to capture the memories! 
Maui
Also a spectacular location to make memories, the Haiku Mill is one of our preferred wedding venues. The hotel is gorgeous, lush, and romantic – it has it all! The Kapulua Cliff House offers a spectacular view for an intimate wedding. Additionally, Hui No'eau Visual Arts Center is a historical place to say, "I do!" Choose from a variety of picturesque ceremony locations on the grounds, like the sun parlor or reflection pond.
The Island of Hawaii 
The island of Hawaii is the largest of the Hawaiian islands. Experience lush valleys, volcanoes, wet tropics, and even tundra on this island. The main island of Hawaii is known for the jet-black sands of Punaluu Beach. This provides a stunning contrast to the blue ocean and your wedding attire, perfect for an intimate ceremony or fantastic couples photos! 
The cuisine on Hawaii is unparalleled, and we recommend Manta's Beach Hotel for amazing farm-to-table food and a great stay on the island. Additionally, Manta's offers oceanfront wedding packages!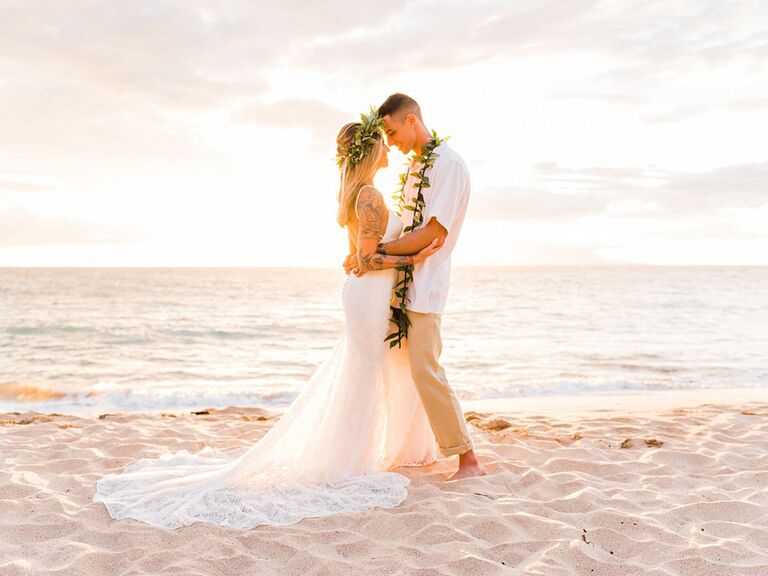 2. Hawaii Beach Wedding vs. Garden Wedding
Hawaii has both! Get married on the beach or in a lush garden setting. Especially on the island of Hawaii where the valleys are a tropical paradise, getting married in a garden setting is the way to go! Your backdrop is vibrant, green, and gorgeous. However, since the Hawaiian Islands have many beaches and beautiful shorelines to offer, it's not hard to find your dream beach ceremony location. 

Consider an outdoor garden or beach wedding, or opt for an outdoor beach ceremony with an indoor garden reception. Hawaii offers any combination! Any of the six major islands offer phenomenal beach settings to say, "I do." If you want a tropical, indoor garden wedding, we highly recommend the stunning Haiku Mill as your fairytale venue. Otherwise, see above for options on the perfect beach location! 
3. All-Inclusive Hawaiian Wedding or Put it Together Yourself
Discuss with your partner if you'd like a general, all-inclusive package or specifics to make your wedding just right. Stay at the Ka'anapali Beach Hotel for an all-inclusive experience for you and your guests. Browse their wedding packages here. Additionally, Turtle Bay Resort along Oahu's north shore is beautiful. Choose between a beach, ballroom, tent, or pavilion wedding.

Lastly, if you're looking for a truly memorable Hawaiian experience, look no further than the Volcano House. Located in the Hawaii Volcanoes National Park, turn up the heat and relax next to a historic volcanic crater! Many hotels and resorts are all-inclusive. Discuss with your partner to see what amenities you'd like added on. Read further about choosing your own vendors and bringing your own destination wedding photographer to your Hawaiian wedding, here. Psst, we know how to get around outside-vendor fees! 
4. Our Top Hawaiian Venues! 
If you know anything about Trevor and I, we adore our resorts! And Hawaiian resorts are the perfect combination of charm, luxury, and romance. Haiku Mill is our favorite! We love photographing our couples in the lush, garden ceremony plaza – any photographer's dream backdrop of vivid greenery! It's a fairytale, jungle castle! 
5. After You Get Married in Hawaii: Excursions 
Don't be afraid to book your photographer for a family post-wedding adventure of a lifetime! We have a blast capturing the thrill with our camera and our high-end videography. There's so much only experienced in Hawaii, it might be hard to choose your excursion! 
Looking for more destination wedding planning tips? We've got your back!  Click here to read more of our blogs that will help you. If you're just starting your wedding planning journey, we have curated a series of 7 emails sent right to your inbox. No spam or anything, just lots of useful tips and wedding advice. You can sign up for those emails here.
---
And, if you're ready to find your destination wedding photographer, contact us! We offer photo and video services, no travel fees, and custom collections for every single one of our couples. We can help make your dream wedding day come true. (edited)