Looking for groom and groomsmen attire for your beach wedding? The last feeling you want on your wedding day is to be unbearably overheated because of what you're wearing. Peak wedding season is in the hottest time of the year and if you're in a tropical climate for your destination wedding, it can be a challenge to stay cool without sacrificing style and elegance. Incorporating airy linens, rolling up those sleeves, and getting creative with color combinations can make you look steamy (in the best way) on your wedding day. You can even lose the socks!
Take it off!
There is nothing wrong with shedding a few layers during your wedding to beat the heat. Avoid three-piece suits and take off the jacket! A casual look on the beach for your destination or resort wedding can be just as stylish and allow you to sweat less. The fewer layers you put on, the happier you'll feel. Just be sure to apply sunscreen!
Lose the tie
Skip the socks (keep reading for more about what to put on your feet!)
Take the jacket off after the ceremony, go jacket-free
Avoid three-piece suits
Just the vest
Leave a few buttons unbuttoned – I give you permission!
There's a magical thing called shorts (perfect for the casual beach wedding – try 'golf shorts' to look a little more polished)
Let's Talk Fabric for Your Beach Attire
Light and airy natural fabrics allow your skin to breathe much better than corduroy, suede, and of course denim. Before buying your dream wedding attire, think about what materials it's made of – it can make all the difference standing under the Jamaican sun with your partner. Packing extra shirts for yourself and your groomsmen to change into during your tropical wedding keeps everyone looking and feeling fresh. I would recommend any of these fabrics over heavy wool-tweed or the traditional tuxedo composed of polyester and wool.
Linen
Cotton
Seersucker
Other natural fabrics
Moisture-wicking
The Calvin Klein steel performance dress shirt from Macy's uses wicking cotton fabric to keep you comfortable your entire celebration. Mizzen+Main have moisture-wicking, no-iron shirts; and Lawrence Hunt uniquely incorporates performance mesh in the armpit of their dress shirts.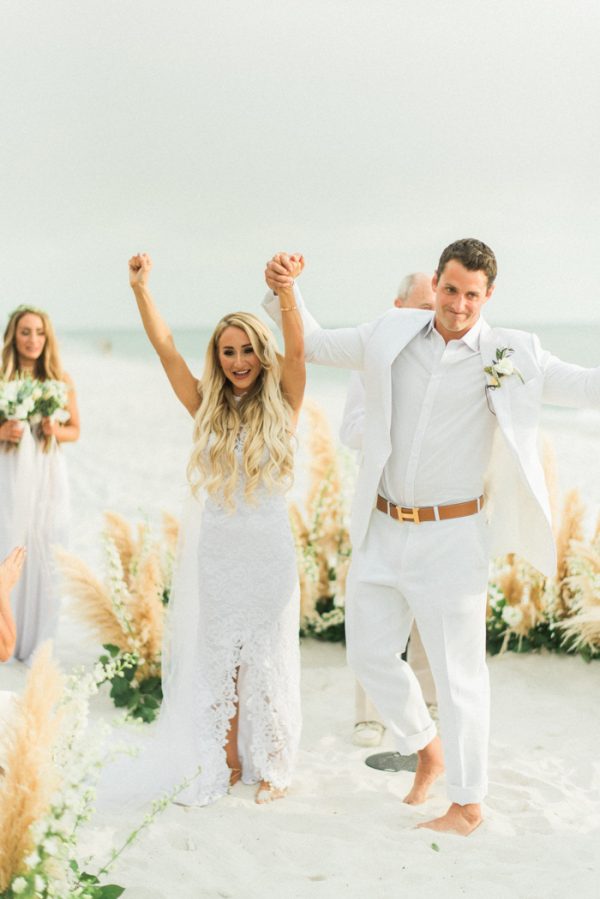 Pastels Aren't Just for Painting
Choosing light and bright colors not only shows off your personal style and your wedding aesthetic, it also doesn't turn you into a puddle like colors that absorb heat. You can easily be whimsical and cool by getting creative with your color palette.
Neutrals – easily dressed up and dressed down for a casual, boho look
White: classic, bright, and breezy
Tan, beige, ivory, cream, light grey, off-white… basically more neutrals to combat those spicy sunrays!
Pastels, sage green, lilac, blush, light teal and other soft colors
It's your wedding day! Feel free to accent your neutrals with bold colors and fun patterns. Your look doesn't have to be all light, reflective colors. Your shoes, boutonniere, or bowtie can be just as eye-catching and fun without taking away from staying cool.
Classy white-on-white
Burgundy suspenders with beige pants
An eye-popping vest
A bold gingham bowtie
Simple, white button-down with leather suspenders
A printed or striped shirt with cream pants or shorts
Blue shoes with white dress pants
Breezy Formal Groom and Groomsmen Beach Attire
If wearing a formal suit matches your bride's gown during your ocean-side ceremony, then wear one that is made of light-weight fabric. You can still look traditional during your destination wedding, while staying comfortable.
Opt for bright, solid colors
Linen shirt and pants
Black bowtie – for the dressier summer look
Shed layers after the ceremony (take off the jacket halfway through pictures!)
Keep the tie, but loosen or remove during the reception
Brown shoes
Footwear for the Groom and Groomsmen
Exchanging your vows in the sand? Skip the shoes! Throughout your day, you can have a combination of sandals and no shoes. I recommend going barefoot during some of your couples' portraits – especially for sunset photos wading in the water!
Formal brown shoes
Moccasins – the perfect no-sock shoe!
White shoes
Sandals
Colorful shoes to match your wedding colors
Barefoot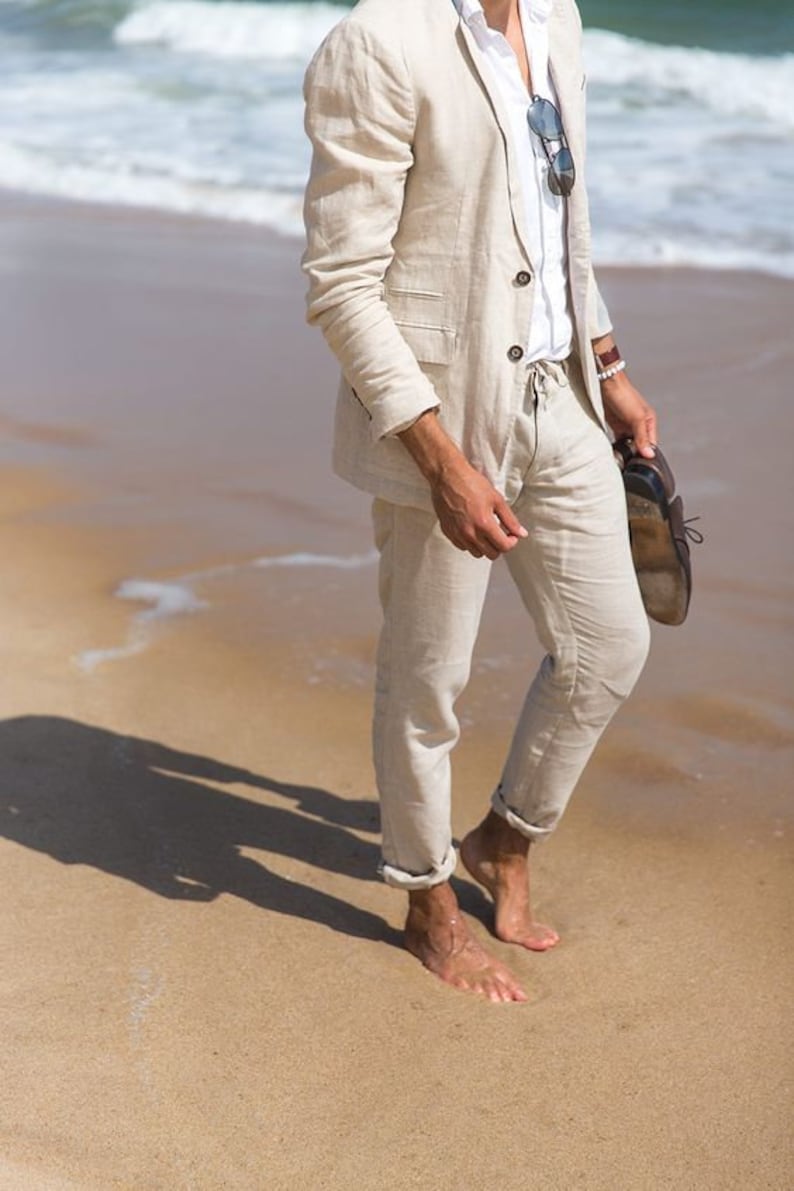 The Full Look of Groom and Groomsmen Attire for Your Beach Wedding
You can still look sophisticated, sharp, or dashingly casual as a groom or groomsmen for your warm destination wedding. Keith and Holly's Jamaican destination vow renewal in Ocho Rios was the perfect combination of chic and relaxed. Keith wore $20 pants from Amazon, a regular white shirt with sleeves rolled up to the elbow, and a nice pair of brown shoes with a matching brown belt. And that's all he needed to pull off the perfect tropical wedding look without breaking a sweat. His boutonniere completed the look. We even brought along a tie just in case, but his outfit already had the perfect balance for a tropical, Sara June destination wedding.