Although there are lots of reasons to get married somewhere tropical, we've compiled five reasons for a Florida destination wedding. And for someone who LOVES photographing beachfront weddings, Florida is the perfect location. The sunshine state is also one of the top destination wedding locations in the United States. Bring on the sun! So, if you're on the fence about where to get married, here are five reasons a Florida destination wedding is for you:
1. White, Sandy Beaches
Who doesn't love a relaxing day by the ocean? A Florida destination wedding with an ocean view will turn up the romance! You'll find pristine white sand beaches in many places along the coast of Florida. The Northwest coastal regions and towns like Pensacola Beach, Seaside, and Destin are known for these snow-white sands and sunshine! The Gulf Coast is famous for beautiful beaches as well – with stunning venues to choose from! You can relax on the super-soft sands of Siesta Key, Naples, and St. Pete Beach. Choose from multiple beaches for a barefoot wedding you and your guests won't forget! The historic Casa Marina is one of the largest private beaches on Key West Waldorf Astoria Resort and includes a private dock for your ceremony or a grand indoor ballroom.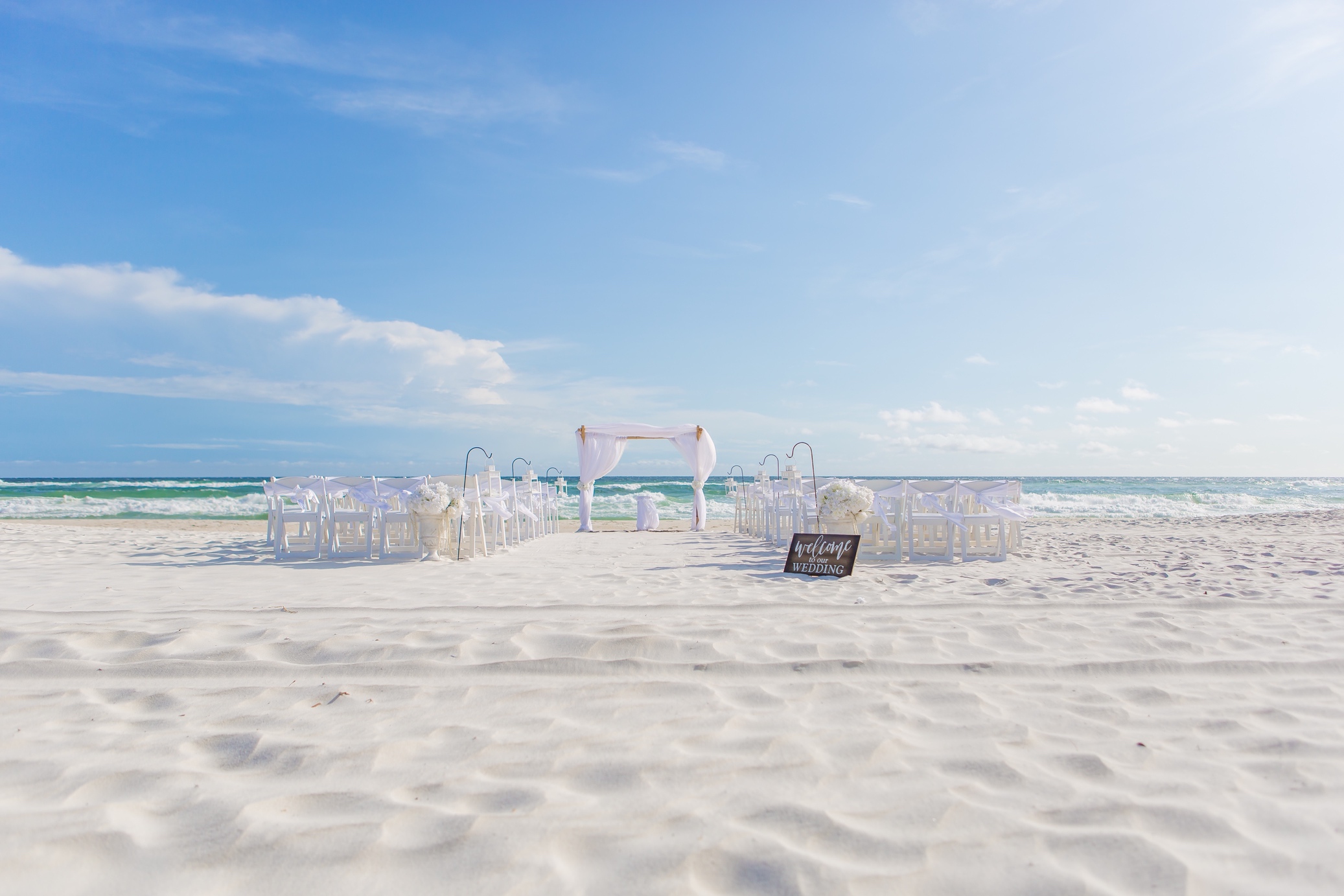 No matter your needs or style, there are so many options in Florida for your dream beachfront wedding. Sandy white beaches for a Florida destination wedding is any photographer's playground. White sand is the perfect backdrop for clean, crisp wedding photos. Our videographer-photographer team loves taking couples to the beach! Prepare to get wet for your couples session! We adore intimate sandy, beach sessions the day before or after your wedding. The Florida coastline is perfect for romantic pictures of you and your spouse-to-be! It's also great for playful wedding party photos and full family pictures. The Ocala National Forest in the Everglades also has white, sandy beaches – plus plenty of water excursions and airboat tours – let's see some alligators! 
2. No passport needed!
For all of your family and friends coming from the United States, Florida is a short flight away! Guests can even take an extended vacation to the sun kissed beaches by way of a road trip. If you and your partner love road trips, planning a city-by-city honeymoon back home after your Florida destination wedding is a romantic option! Depending on where you choose to have your wedding, there are many nearby attractions you and your guests can experience. No long flight necessary! From different locations in the United States, traveling to Florida is easy. Many wedding venues are within an hour of a nearby airport. 
3. Affordable Destination Wedding
Not only is travel to your destination wedding shorter and thus less expensive, but many venues are cost-effective. Florida is perfect for your budget. There are a plethora of venues and wedding packages in the most romantic locations. All you need to do is choose! Certain all-inclusive packages with Key Largo Lighthouse weddings start as low as $68 per guest during your ceremony and reception. Anna Maria Island Venues offers affordable and romantic Florida locations along the water. 
Additionally, your destination wedding can be as involved as you want it to be. Shower your guests with a gorgeous ceremony and dance, but have everyone check out local cuisine for dinner on their own. Instead of paying for each guests' meal, offer time for your guests to check out the Florida restaurants they want to. Plus this is the perfect time for you and your spouse to eat your first romantic meal as a married couple alone. Micro-weddings are an intimate option as well! You and a small group of guests can be as intentional with your money as possible. Florida destination weddings are feasible for you and your guests!  
4. Florida Travel Ease
If you live in the US, hoping on a quick airplane to Florida is a piece of cake! There are many commercial flights available at frequent times for all guests to utilize. Whether you hop on a flight from Chicago or are coming from the west or east coast, flights are frequent and easy to come by. Depending upon where in Florida your wedding is, there are plenty of airports within driving distance of your special day. The Tallahassee International Airport is perfect for the northern regions of Florida. Miami International Airport will cover the southeastern part of Florida while the  Key West International Airporttakes your guests straight to the islands for the celebration of the year! 
5. Florida Airbnb vs. All-Inclusive Resorts
There are fantastic Airbnbs in Florida for all your destination wedding desires! From simple, beachfront getaways to extravagant gathering spaces, Airbnb has it all! Reach out to hosts with any questions – there are so many to choose from and communicating your needs can make the decision easier. Check out the many Airbnb houses that are perfect for your Florida wedding!
Key Largo Lighthouse Weddings offer all-inclusive packages to get you started. The tropical, beachfront wedding of your dreams is within reach! There are many stunning destination wedding venues and resorts throughout Florida – it's a dream location after all! Thus, Florida is pretty good at putting on a wedding bash to remember. All-inclusive venues have connections spanning many vendors and suggested finishing touches to make your day go off without a hitch! Choose from a variety of wedding planners, decorators, chefs, entertainment, and more! Florida has it all – and so do many of the all-inclusive venues! There are optional add-ons for all-inclusive weddings, such as a welcome party, rehearsal dinner, and morning after brunch. 
---
Looking for more destination wedding planning tips? We've got your back!  Click here to read more of our blogs that will help you. If you're just starting your wedding planning journey, we have curated a series of 7 emails sent right to your inbox. No spam or anything, just lots of useful tips and wedding advice. You can sign up for those emails here.
And, if you're ready to find your destination wedding photographer, contact us! We offer both photo and video services, custom collections for every single one of our couples, and we don't charge travel fees. We can help make your dream wedding day come true.